Antique Bicycle Gallery
---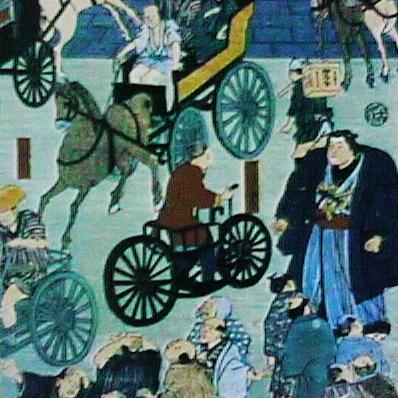 NISIKIE「Tokyo Nihonbashi Scenery」(1870)Ukiyoe that Yositora was a picture .
---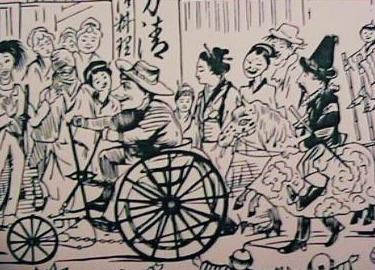 "Rantoone"The Japan Punch,1869
The Japan Punch is a satire cartoon magazine that Charles Wirgman of England person issued in Yokohama.Charles Wirgman is the correspondent of former Illustrated London News company.The title of this illustration is written as Opening of Yedo.It made a round trip to Yokohama Tokyo period with Rantoone.This case is placed in March 6, 1869 no. of Scientific American magazine.
---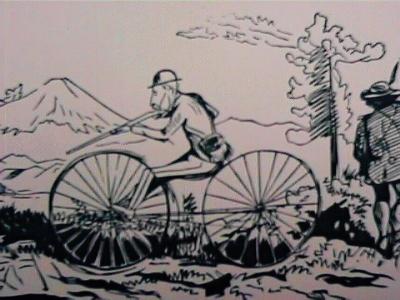 The Japan Punch,1869。This bicycle is deformed and what kind of form or it is unknown.
Is it Boneshaker type?
---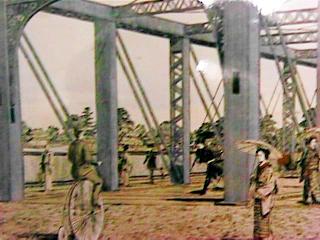 Azuma Bridge、 About 1888。 Azuma bridge was a modern steel bridge at that time. Ordinary bicycle prevailed also in Japan from about 1888.

---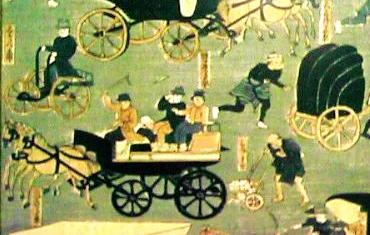 Nisikie、"Itininsha "(Bicycle on the left side) 1870 .
---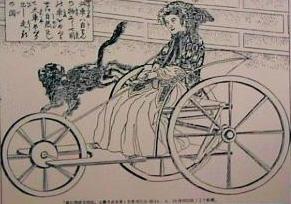 "Jirinsha", This picture is placed, in "Yokohama open port experience magazine"1865 .
---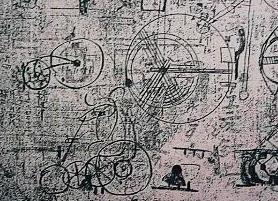 Nagasaki Diary of Hisasige Tanaka 1866
Hisasige Tanaka was born in Fukuoka in 1799.
He is an engineer of the Edo period latter period.
He is the founder of Toshiba company.
This diary wrote when he was staying at Nagasaki.
It is depicted, to a diary much sketching.
The thing of this diary is in Edo Tokyo museum.
---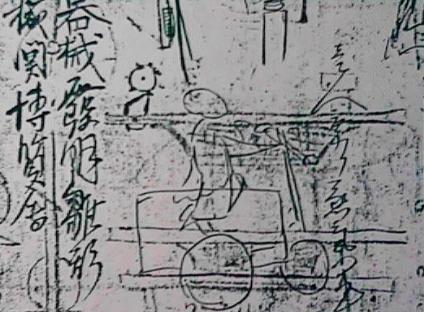 Nagasaki Diary of Hisasige Tanaka.One person ride vapor tricycle/1866.
---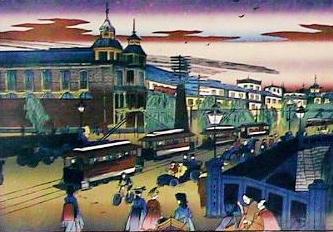 Nisikie ,The scenery of Tokyo, Shinbashi. About1902
---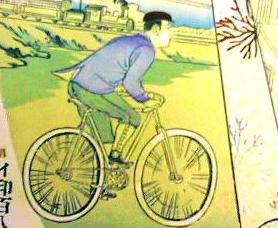 "Utiwae"Picture of Japanese fan、 About1902
---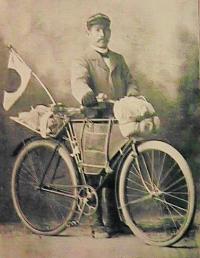 Harukiti Nakamura、Bicycle world trip adventurer 1908
---
This page was last updated on April.7, 1998.